This is the easiest way to get to know magnificent St. Petersburg more closely since you don´t need a Russian visa for this trip.  The ferry leaves Helsinki on Wednesday evening and you´ll be in St. Petersburg the next morning. You have two great days to spend in historical St. Petersburg and stay overnight at 4- or 5-star Sokos hotel. Book the tour package conviently in Online Shop. 
City Break Package by ferry to St. Petersburg
Price starting from 231 € includes
2-night accomodation B class cabin aboard M/S Princess Anastasia Helsinki - St. Petersburg - Helsinki
1 night at Sokos Hotel Olympia Garden or Spa Hotel Sokos Palace Bridge in twin room in St. Petersburg
Shuttlebus transfer harbour - Sokos Palace Bridge - St. Petersburg city centre - Sokos Palace Bridge Hotel - harbour
Buffet breakfast at hotel
Harbour fee
Fuel fee
A Class cabin extra fee
Breakfast Buffet onboard 12 € pp.
Dinner Buffet onboard 28 € pp.
Taxi transfer port - Sokos Hotel Olympia Garden - port from 57 €/car
Hop-On-Hop-Of City Sightseeing Tour day ticket 22 € pp. (child 2 - 6 years)
Hop-On-Hop-Of City Sightseeing Tour day ticket 29 € pp. (adult)
Hermitage Museum entrance ticket 25 € pp. (Mondays closed)
Bookings online not later than 8 days before the departure. Last minute bookings, please contact our customer service by tel. +358 9 6689 5730 or email matkat@lahialuematkat.fi
NOTE! On the trip you should have a passport that is valid 6 months after the trip. Russian visa is not required.
NOTE! If you or your fellow traveller needs a Schengen visa when travelling to Finland, a double or multiple Schengen visa is required for this trip.
Please note, that when booking the tour package in Online Shop, you can accomodate maximum 2 persons in cabin onboard and in hotel room. If there are 4 persons in your group, book 2 cabins and 2 rooms. See package prices and availability in Online Shop. Online bookings without service fee. For Online booking you need following information of each passenger:
- name (as written on passport)
- date of birth
- citizenship
- passport number
- passport expiry date
In case you want to accomodate 3 - 4 persons in one cabin aboard, please contact Lähialuematkat Russian Tours customer service by email matkat@lahialuematkat.fi or tel. +358-9-66895730. In Sokos spa Hotel Palace Bridge there is a possibility to have extra bed in room. Further information and reservations in our customer service.
Special conditions are applied for St. Peter Line's and Lähialuematkat self-reliant cruise trips. Check travel terms.
In case you wish to stay longer in St. Petersburg or there is no departure on the day you wish to travel, we recommend you to take a look at City Break by train in St. Petersburg. For this trip Russian visa is needed. Departures from Helsinki everyday. See for more information.
Day 1, Wednesday
15.00 - 18.30  check-in at Moby SPL service point at Länsiterminaali (West Terminal) in Helsinki.
Tram route 9 runs from Helsinki center to Länsiterminaali (West Terminal) through Kaivokatu, Kamppi and Ruoholahdenkatu.
19.00  Ferry departs for Saint-Petersburg.
Free time aboard.
Day 2, Thursday
9.00  Ferry arrives at the Sea Station «Morskoy Vokzal» in Saint-Petersburg.
After passport control there is a shuttle bus transfer from the port to St. Isaac's Cathedral in the center of Saint-Petersburg and Sokos hotel Palace Bridge. Please note that there is no shuttle bus transport to Sokos hotel Olympia Garden.  Check operating time at the ferry's Info desk. Show your bus driver your boarding card and tell him that you would like to get off at Palace Bridge. Shuttle bus transfer is included in the package price.
In case you stay overnight at Sokos Olympia Garden, we recommend you to book taxi transfers port- hotel - port in advance in our Online Shop.
14.00 Hotel check-in.
Free time is beautifull St. Petersburg.
Day 3, Friday
Buffet breakfast in the hotel.
12.00 Check-out from hotel. 
In the afternoon shuttle bus transfer from Palace Bridge hotel and city center St. Isaac's Cathedral. Please check the operating time from M/S Princess Maria Info Desk or hotel in advance.
15.00 - 18.00 Check-in to the ferry.
Free time on board. We advice you to book buffet dinners and breakfasts in advance when booking the tour. You ensure your seat in restaurant settings and get your meal some cheaper that on the spot.
19.00 Ferry departs for Helsinki.
Free time on board.
Day 4, Saturday
8.00 Ferry arrives at Länsiterminaali (West Terminal) in Helsinki.
All timetables are in local time. Time in St. Petersburg is the same as in Finland during the summer season 26.3. - 29.10.2017. Lähialuematkat is not responsible for any possible schedule changes made by the shipping company, so please always check the ferry's departure time, bus shuttle schedule etc. separately.
| Season | Duration | Route | Price | Weedays |
| --- | --- | --- | --- | --- |
| 5.4. - 20.12.2017 | 2 nights M/S Princess Maria + 1 night at Sokos hotel | Helsinki - St. Petersburg - Helsinki | Starting from 231 € pp. | Every Wednesday |
| 28.3.2018 - 20.12.2018 | 2 nights M/S Princess Maria + 2 night at Sokos hotel | Helsinki - St. Petersburg - Helsinki | Will be published later | Every second Wednesday and Thursday |
M/S Princess Anastasia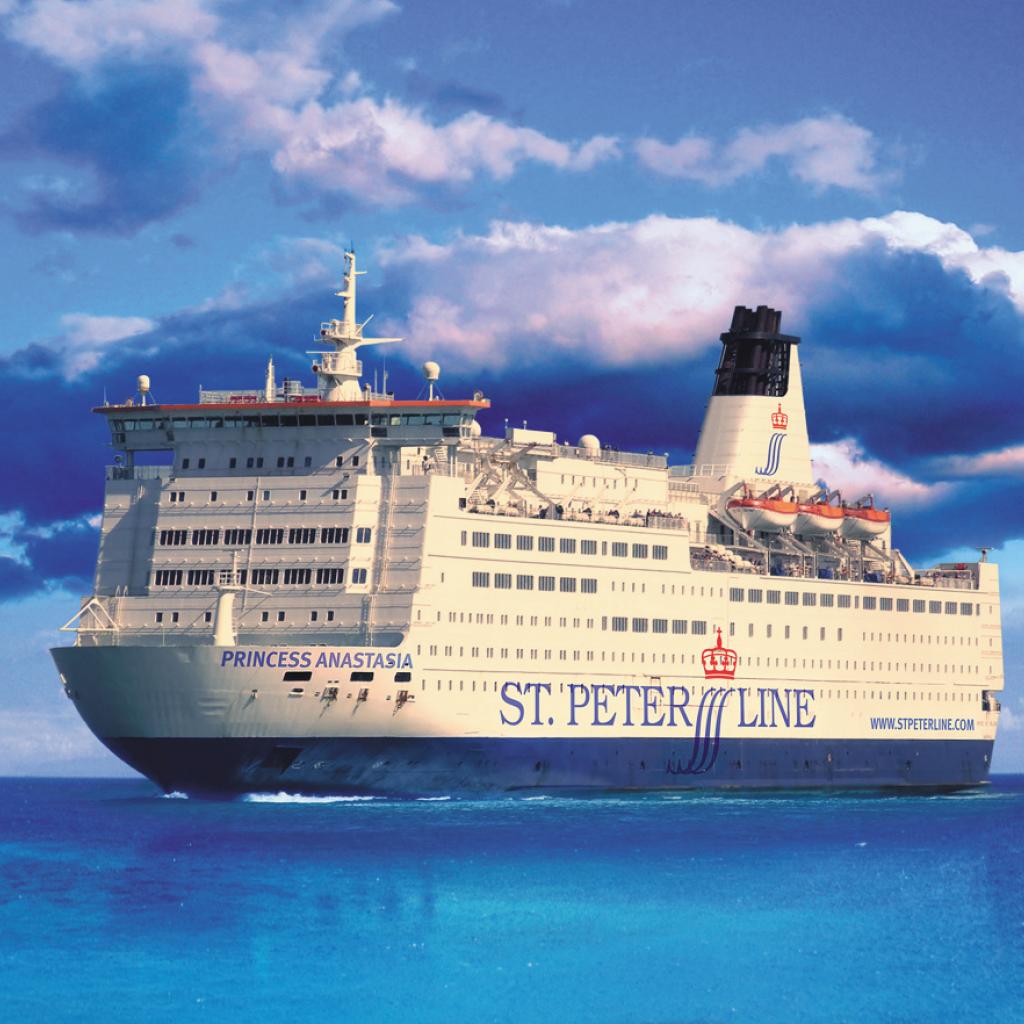 M/S Princess Anastasia operates between Helsinki and St. Petersburg twice a week. There are several restaurants, bars, shops and confernce rooms aboard. Lähialuematkat´s tour packages include accommodation for 2 persons in A Class cabins and in B Class cabins. All cabins are located on deck 4, 5 and 6. Buffet meals onboard (restaurant Mascalone Latino, deck 7) are worth reserving at Lähialuematkat at the same time when you book the tour package. Thus you will ensure your place in the restaurant setting and get your meals a bit cheaper than on the spot. The buffet dinner price includes beer and wine without limits in addition to non-alcoholic beverages. Children under 7 years old eat free of charge with an adult. Enjoy high class night show at Columbus Bar, sing karaoke at Sports Bar Legend or try water pipe at Smoking Bar. Tax free shop, hair dresser and sauna are at your disposal. Princess Anastasia accommodates 2400 passengers.
Sokos Hotel Olympia Garden ****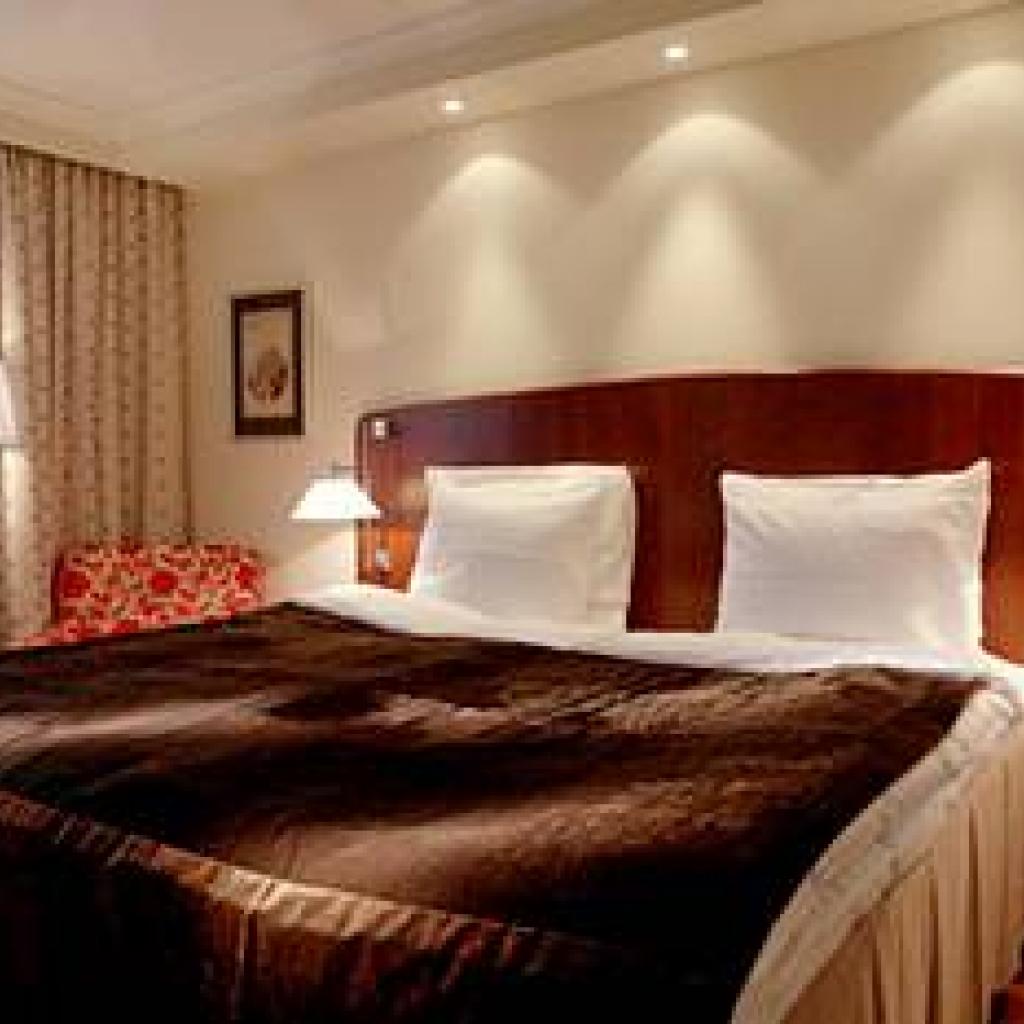 Qualified and cosy hotel is located next to the verdant Olympic Garden and lively Moskovsky Prospekt, 3 km south from main street Nevsky Prospect. On the streets close by there are good shopping possibilities and several restaurants. Elegantly furnished rooms have an air-conditioning and free Wi-Fi. Restaurant Fransmanni offers cuisine from the French Provence and Sports Bar delicious hamburgers. Fireplace with open fire creates cozy atmosphere in the public areas of the hotel. Finland's railway station 7km with a direct metro connection, closest metro station Tekhnologicheskiy Institut 450m.
Sokos Hotel Palace Bridge *****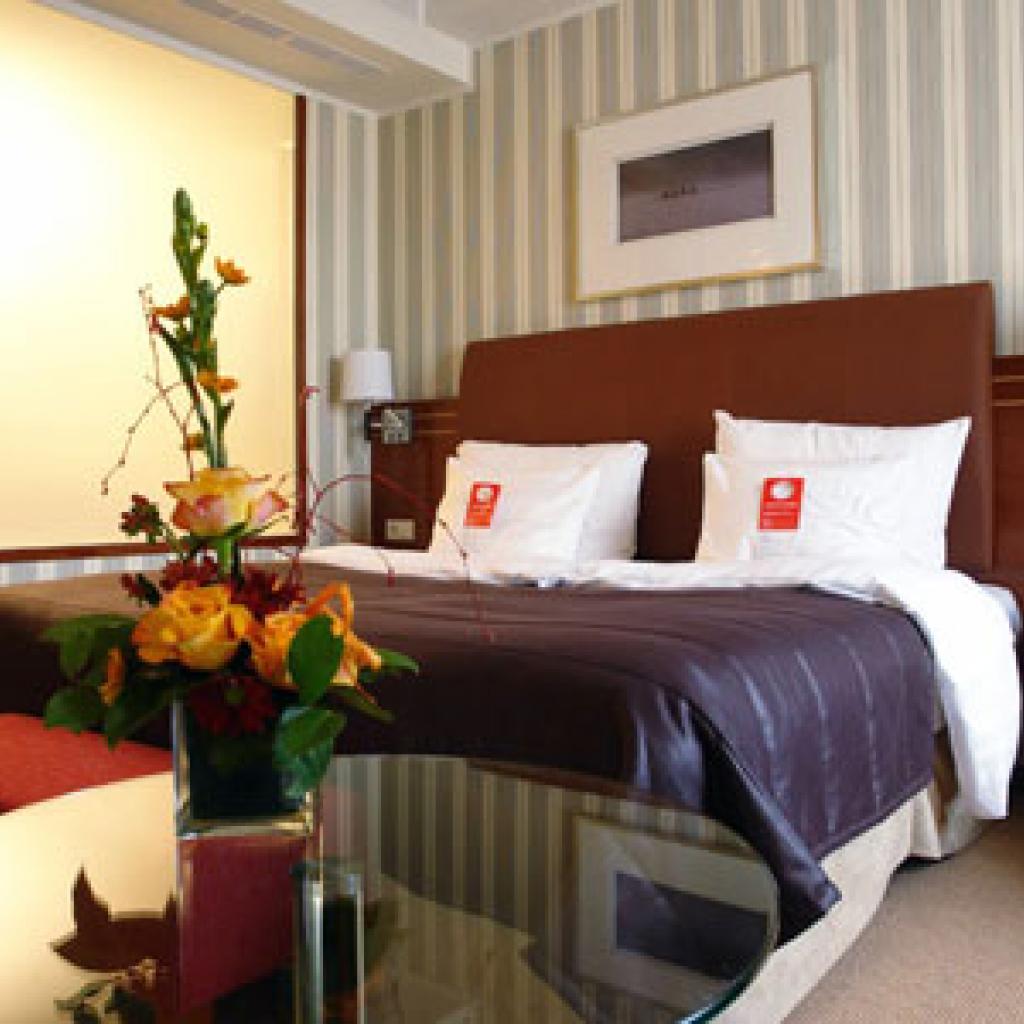 Luxurious spa and congress hotel on the Vasily island close to the Palace Bridge leading to the heart of the historic city with Hermitage, Palace Square, St. Iisac's church and the beginning of the Nevsky Prospekt. The heart of the hotel is the old brick wine cellar of the Yeliseev merchant family, where the rich buffet breakfast with sparkling wine is served. In the elegant rooms there is air-conditioning and free Wi-Fi. Accesible rooms are available. The luxurious spa-zone is free of use, spa-treatments are of extra payment. In hotel you can find restaurant Sevilla, restaurant Dans le Noir?, EasyFit and LadyLine, conference and banquet facilities and a parking area at your service. Also golf simulator Gorki Golf Academy is located in the hotel and can be booked with extra payment. Address: Birzhevoy pereulok 4, closest metro station Vasileostrovskaya 900 m.