Experience the historical city of St. Petersburg! Travelling by train from Helsinki is safe and very comfortable - it takes only 3,5 hours by high-speed train Allegro from the city centre to the city centre. On this quality 2 or 3 -night tour you will have a plenty of time to explore the city of three revolutions. Departures every day. Please note that a Russian visa is required for this trip. Let us take care of all visa and travel arrangements for you. 
City Break package in St. Petersburg
Price starting from 219 € includes
Allegro train tickets (2nd class) Helsinki - St. Petersburg 6.20 - 10.47 OR 10.00 - 14.27 *
Allegro train tickets (2nd class) St. Petersburg - Helsinki 15.30 - 17.57 OR 20.30 - 22.57 *
2 or 3 nights at Hotel Dostoevsky, Sokos Olympia Garden, Sokos Spa hotel Palace Bridge or Golden Triangle Boutique Hotel (shared double room)
2 or 3 x Breakfasts at hotel
Transfer railway station - hotel in St. Petersburg - railway station (not organized between 14.6.-17.7.2018)
Russian Tourist Visa for citizens of Schengen area 72 € p.p.
Visa Support Letter for non-Schengen area citizens 28 € p. p.
Transfer hotel - railway station in St. Petersburg starting from 39 €/car
Hop-on-hop-off City sightseeing tour 29 € p.p.
Entrance ticket to Hermitage Museum 25 € p.p.
Travel insurance (valid 2 weeks), insurance company Lex Garant 18 € p.p.
Mailing travel documents in Finland 10 €
Mailing travel documents in Schengen area countries by DHL courier 50 - 90 €
* Starting from 1.4.2018 onwards the trains included in the package price are 07:20 - 10:47 from Helsinki and 20:30 - 23:57 from St. Petersburg. The trains departing at 11:00 from Helsinki and at 15:30 from St. Petersburg are of extra fee (ranging from 0 - 30 € / person / way). See the exact amount of extra fee in our web shop during your  booking.
For booking this tour package online you need to have following information of all your fellow travellers:
- full name (as written on passport)
- date of birth
- nationality
- passport number
Make sure that the passport of each passenger is valid 6 months after the trip.
The price of the package varies depending on the dates and the chosen hotel. The availability and prices can be seen in our webshop. You can board the Allegro train in Helsinki, Tikkurila, Lahti, Kouvola or Vainikkala. Please choose the desired train station when doing the booking.
Please note, that due to Finnish wintertime starting on 29th of October there are changes at departure times for trains operating from Helsinki to St. Petersburg, but there are no changes for departure times for trains operating from St. Petersburg to Helsinki. 
For this tour General Terms for Package Tours and Lähialuematkat Special Terms for City Break by train to St. Petersburg are applied. See Terms and Conditions.
Travel Insurance and obtaining the visa
Passenger insurance is obligatory when obtaining a Russian Visa. As additional service you may purchase at Lähialuematkat Russian insurance company Lexgarant´s passenger insurance. This insurance  is valid for 2 weeks and it will cover costs (max. 30.000 eur) in case of sudden illness, accident and death as well as transporting of the deceased. Please see for detailed Terms and Conditions of the Lexgarant insurance. See also Lexgarant homepage.
When travelling to Russia by train, Russian visa is required except from the citizens of countries that have a special agreement on visa exemption with Russian Federation. Russian Tours / Lähialuematkat is able to organize the visa for the citizens of  Schengen area for this package tour. You need to send Lähialuematkat the original passport, a passport photo, travel insurance certificate and complited and signed visa application form of each passenger. Delivery time of the visa is about two weeks of which 8 days in Russian Consulate. Please see for more information.
Non-Schengen area citizens can purchase a Visa Support Letter at Lähialuematkat and apply for the visa at Russian Consulate in their own country. We advise you to clarify all details regarding obtaining the visa before booking the tour in our Online Shop. 
In case you are not able to obtain the Russian visa, we recommend you a visa-free Day in St. Petersburg Cruise (2 nights) or City Break Package by Ferry to St. Petersburg (3 nights). Departures from Helsinki on Saturdays and Wednesdays. See for more information.
Train tickets
After your booking you will receive a confirmation of your booking to your e-mail immediatelly. The train tickets as well as hotel voucher and other possible documents will be delivered to you approximately 2 weeks prior the journey. Make sure to print the tickets with you!
Allegro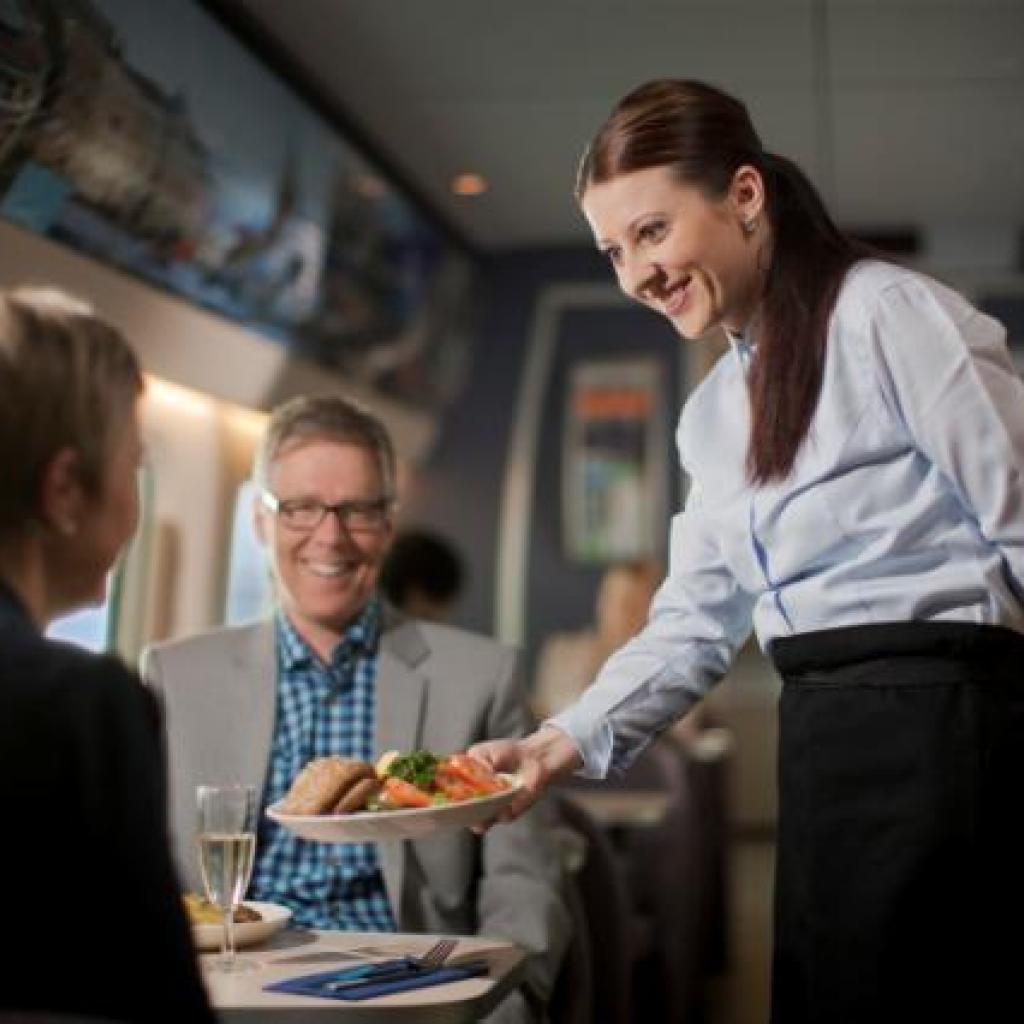 Allegro has four departures per day from Helsinki and St. Petersburg. The travel time from Helsinki to St. Petersburg is 3 hours 36 minutes. You can get on the train at the stations in Helsinki, Tikkurila, Lahti, Kouvola, Vainikkala, and Vyborg (Russia). Allegro has a restaurant car and a sales trolley. You can change currency onboard while the train is on the Finnish side. Allegro also has a children's playroom, accessible toilets, wheelchair spaces, and seats for passengers traveling with pets.
Golden Triangle Boutique Hotel ****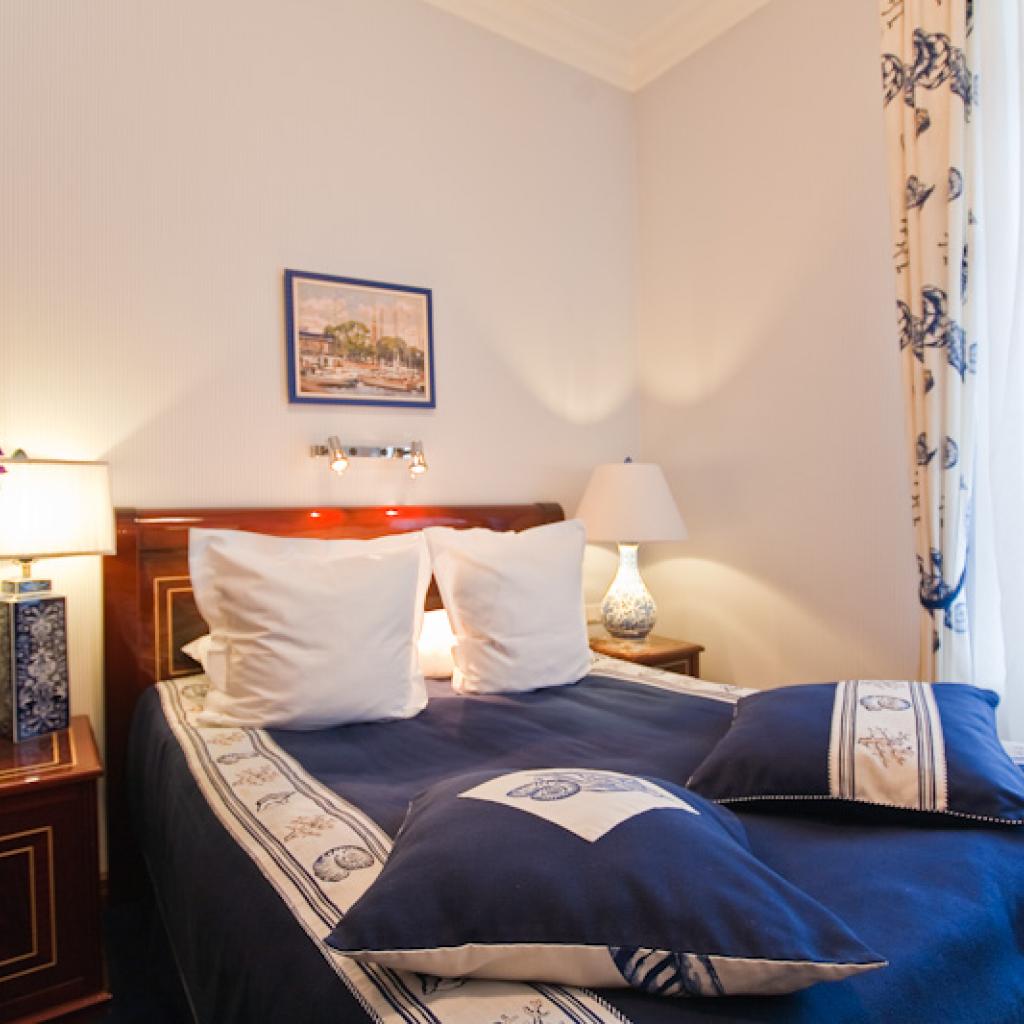 Located in the middle of the historical city center next to the main street Nevsky Prospekt Golden Triangle Boutique Hotel offers you luxury and comfort in a beautiful building dating from the 19th century. Elegant rooms are individually furnished with Italian mahogany furniture. Rooms have quality bathrooms, air-conditioning, flat-screen TV, safety box and minibar as well as hair-drier, bathrobe, slippers and toiletries. At the rich buffet breakfast you can treat yourself with sparkling wine on weekends. There is a free Wi-Fi in the whole hotel, concierge serves you from the hotel lobby and reception is open 24/7. Excellent location within walking distance from the most beloved sights of St. Petersburg: Palace Square and Hermitage museum (1 km), Church of the Saviour on the Spillt Blood (800 m), Kazan Cathedral (400 m), Gostiny Dvor Shopping center (800 m). Closest metro station Nevsky Prospekt (300 m). Address: Nevsky Prospekt 22 - 24, entrance: Bolshaya Konyushennaya ulitsa 12.
Dostoevsky ***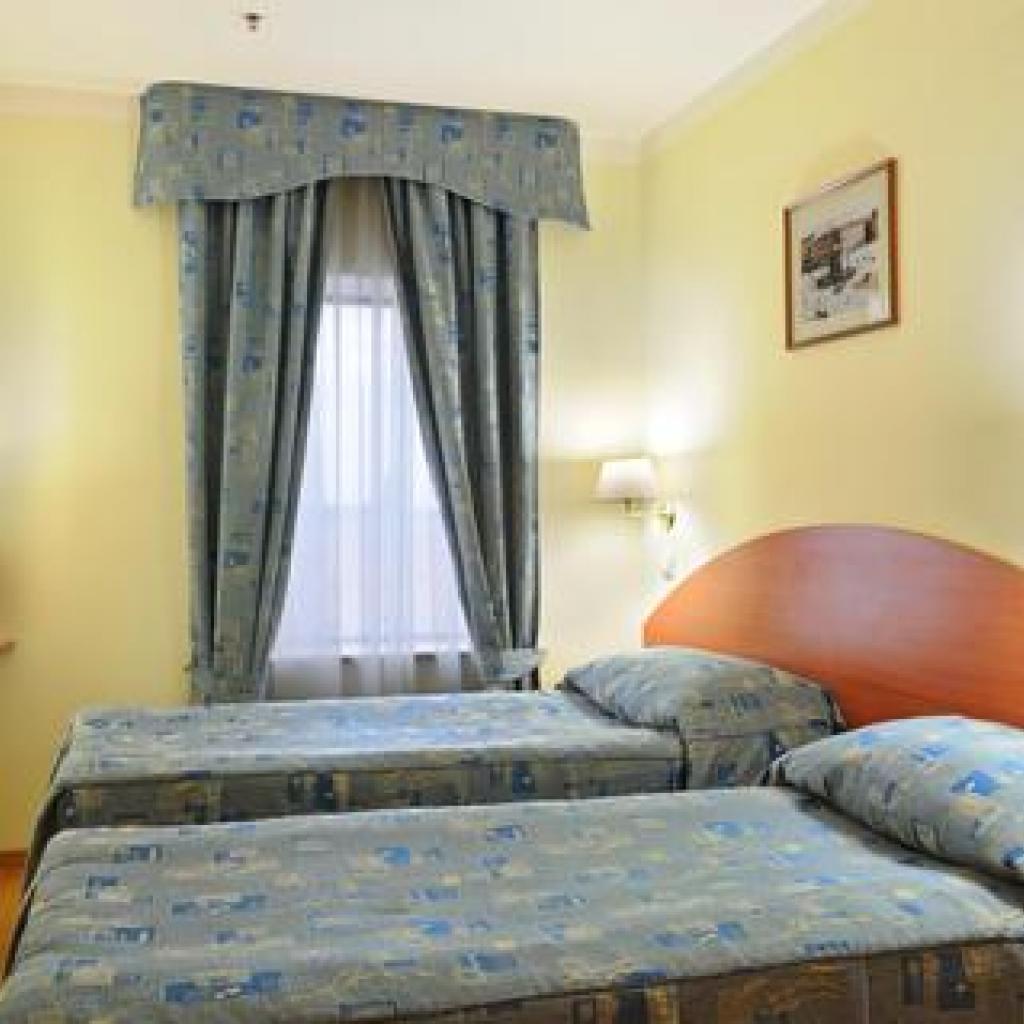 A popular and tidy basic hotel is located in the upper floors of Vladimirsky Passazh -shoppin center in the city center. Spacious and warm-coloured rooms have internet connection, safety box, minibar and TV. Restarant Dostoevsky as well as bar Raskolnikov, named after the main character of the writer's novel, serve you in the hotel. To main street Nevsky Prospect 450 m and Winter Palace 2,5 km. Metro station Vladimirskaya-Dostoyevskaya underneath the building, where you have a straight metro line to the Finlyand's railway station. Address: Vladimisrky prospekt 19.
Sokos Hotel Olympia Garden ****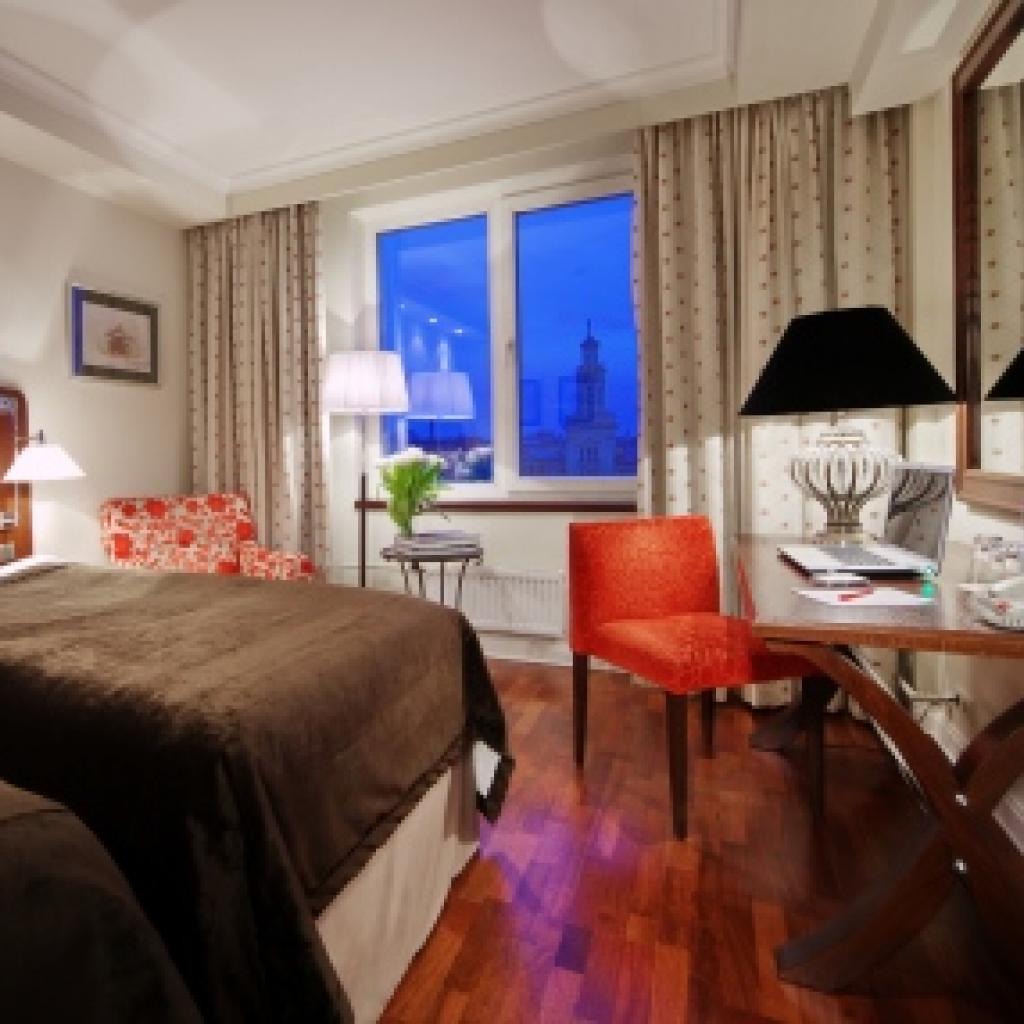 Qualified and cosy hotel is located next to the verdant Olympic Garden and lively Moskovsky Prospekt, 3 km south from main street Nevsky Prospect. On the streets close by there are good shopping possibilities and several restaurants. Elegantly furnished rooms have an air-conditioning and free Wi-Fi. Restaurant Fransmanni offers cuisine from the French Provence and Sports Bar delicious hamburgers. Fireplace with open fire creates cozy atmosphere in the public areas of the hotel. Finland's railway station 7km with a direct metro connection, closest metro station Tekhnologicheskiy Institut 450m.
Sokos Hotel Palace Bridge *****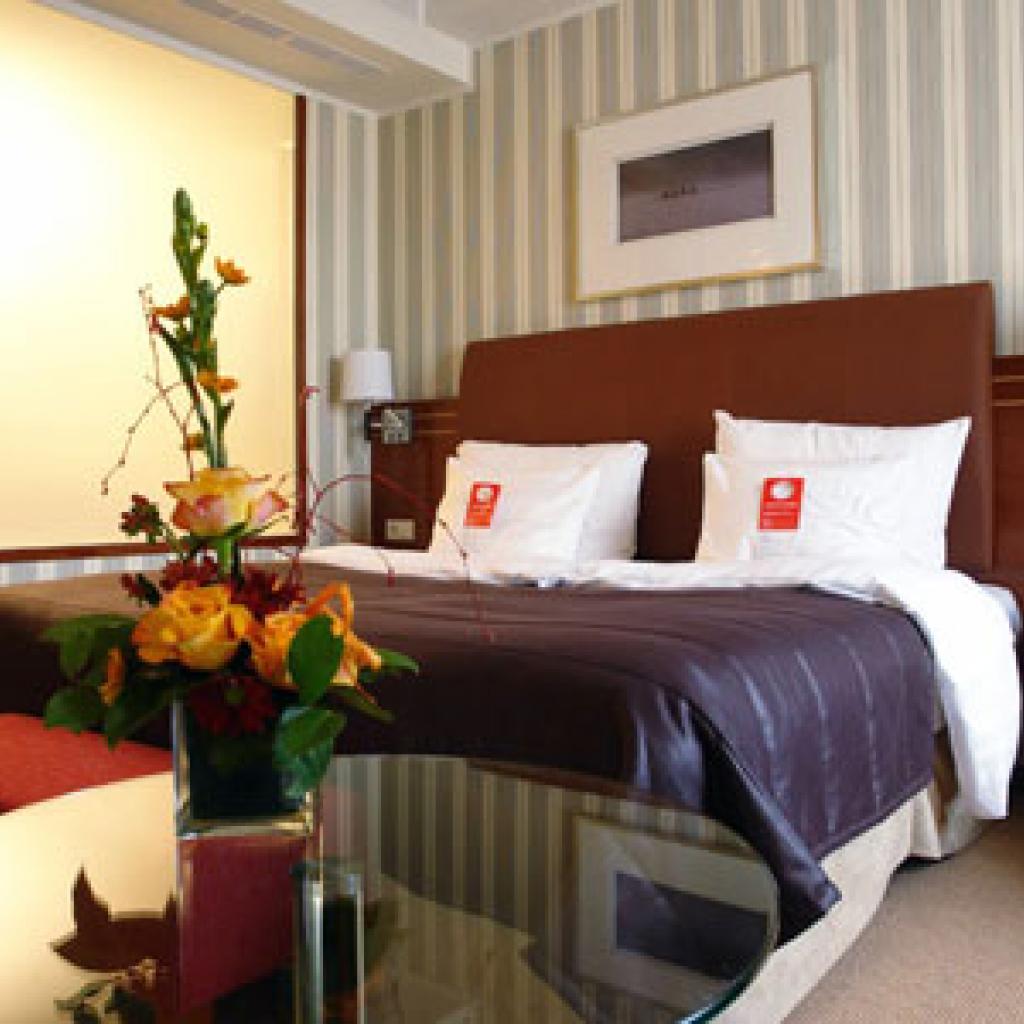 Luxurious spa and congress hotel on the Vasily island close to the Palace Bridge leading to the heart of the historic city with Hermitage, Palace Square, St. Iisac's church and the beginning of the Nevsky Prospekt. The heart of the hotel is the old brick wine cellar of the Yeliseev merchant family, where the rich buffet breakfast with sparkling wine is served. In the elegant rooms there is air-conditioning and free Wi-Fi. Accesible rooms are available. The luxurious spa-zone is free of use, spa-treatments are of extra payment. In hotel you can find restaurant Sevilla, restaurant Dans le Noir?, EasyFit and LadyLine, conference and banquet facilities and a parking area at your service. Also golf simulator Gorki Golf Academy is located in the hotel and can be booked with extra payment. Address: Birzhevoy pereulok 4, closest metro station Vasileostrovskaya 900 m.