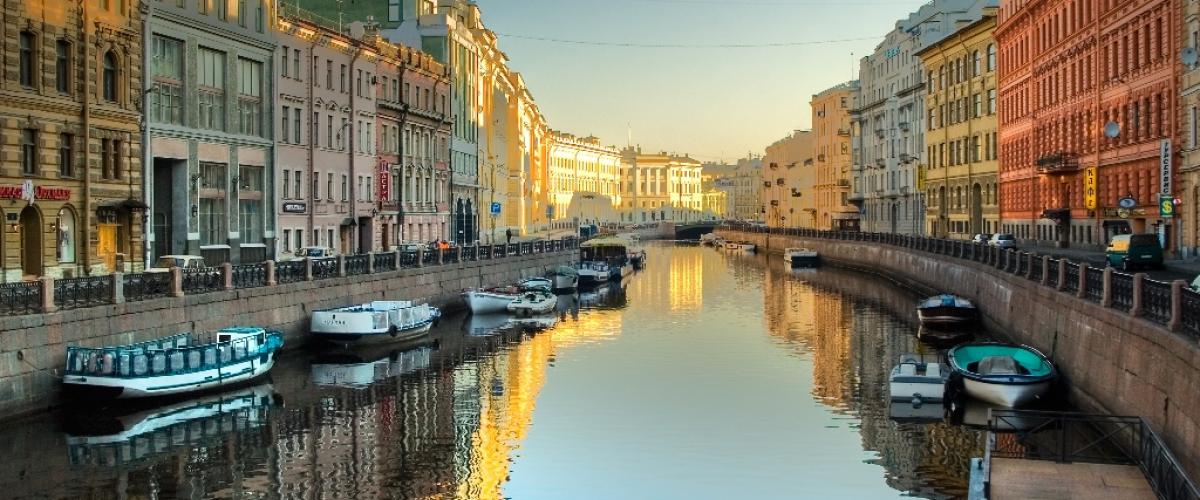 Experience the historical city of St. Petersburg! Travelling by train from Helsinki is safe and very comfortable - it takes only 3,5 hours by high-speed train Allegro from the city centre to the city centre. On this quality 2 or 3 -night tour you will have a plenty of time to explore the city of three revolutions. Departures every day. Please note that a Russian visa is required for this trip. Let us take care of all visa and travel arrangements for you. 
City Break in St Petersburg by train
Package price starting from 232 € includes
Allegro train tickets (2nd class) Helsinki - St. Petersburg 7.20 - 10.47
Allegro train tickets (2nd class) St. Petersburg - Helsinki 20.30 - 23.57
2 or 3 nights at Hotel Dostoevsky, Original Sokos Hotel Olympia Garden, Solo Sokos Hotel Palace Bridge or Golden Triangle Boutique Hotel (shared double room)
2 or 3 x Breakfasts at hotel
Transfer railway station - hotel in St. Petersburg - railway station
Russian Tourist Visa for citizens of Schengen area 72 € p.p.
Visa Support Letter for non-Schengen area citizens 28 € p. p.
Allegro train ticket (2nd class) at 11.00 - 14.27 Helsinki - St Petersburg 0 - 30 € p.p.
Allegro train ticket (2nd class) at 15.30 - 18.57 St Petersburg - Helsinki 0 - 30 € p.p.
2-day ticket for Hop-on-hop-off City sightseeing tour 34 € p.p. (adult)
2-day ticket for Hop-on-hop-off City sightseeing tour 24 € p.p. (child 7 - 13 years)
Entrance ticket to Hermitage Museum 25 € p.p.
Travel insurance (valid 2 weeks), insurance company Lex Garant 18 € p.p.
Mailing travel documents in Finland 10 €
Mailing travel documents in Schengen area countries by DHL courier 50 - 90 €
For booking this tour package online you need to have following information of all your fellow travellers:
- full name (as written on passport)
- date of birth
- nationality
- passport number
Make sure that the passport of each passenger is valid 6 months after the trip.
The price of the package varies depending on the dates and the chosen hotel. The availability and prices can be seen in our webshop. You can board the Allegro train in Helsinki, Tikkurila, Lahti, Kouvola or Vainikkala. Please choose the desired train station when doing the booking.
Please note, that due to Finnish wintertime starting on 29th of October there are changes at departure times for trains operating from Helsinki to St. Petersburg, but there are no changes for departure times for trains operating from St. Petersburg to Helsinki. 
For this tour General Terms for Package Tours and Lähialuematkat Special Terms for City Break by train to St. Petersburg are applied. See Terms and Conditions.
Travel Insurance and obtaining the visa
Passenger insurance is obligatory when obtaining a Russian Visa. As additional service you may purchase at Lähialuematkat Russian insurance company Lexgarant´s passenger insurance. This insurance  is valid for 2 weeks and it will cover costs (max. 30.000 eur) in case of sudden illness, accident and death as well as transporting of the deceased. Please see for detailed Terms and Conditions of the Lexgarant insurance. See also Lexgarant homepage.
When travelling to Russia by train, Russian visa is required except from the citizens of countries that have a special agreement on visa exemption with Russian Federation. Russian Tours / Lähialuematkat is able to organize the visa for the citizens of  Schengen area for this package tour. You need to send Lähialuematkat the original passport, a passport photo, travel insurance certificate and complited and signed visa application form of each passenger. Delivery time of the visa is about two weeks of which 8 days in Russian Consulate. Please see for more information.
Non-Schengen area citizens can purchase a Visa Support Letter at Lähialuematkat and apply for the visa at Russian Consulate in their own country. We advise you to clarify all details regarding obtaining the visa before booking the tour in our Online Shop. 
In case you are not able to obtain the Russian visa, we recommend you a visa-free Day in St. Petersburg Cruise (2 nights) or City Break Package by Ferry to St. Petersburg (3 nights). Departures from Helsinki on Saturdays and Wednesdays. See for more information.
Train tickets
After your booking you will receive a confirmation of your booking to your e-mail immediatelly. The train tickets as well as hotel voucher and other possible documents will be delivered to you approximately 2 weeks prior the journey. Make sure to print the tickets with you!